The Train Wreck will be closing early on Wednesday, December 24th at 2pm.  We will be closed on Thursday, December 25th.  We'll be back to our normal hours on Friday, December 26th.  Sorry for any inconvenience!
The Train Wreck Bar is a unique place to get a beer, wine, cocktail or quick and delicious meal located in historic downtown Burlington, WA. Since 2008 we have been serving our community with a smile and a gourmet flair.
THE TRAIN WRECK IS NOW SERVING BREAKFAST 7 DAYS A WEEK!! OPEN DAILY AT 8AM!!  PLEASE KEEP IN MIND WE ARE A BAR, ALWAYS ONLY 21 & BETTER.

Hours of Operation:
Mon-Wed 8am-11pm breakfast (8-11am), lunch & dinner 11am-930pm (late night menu begins at 9:30pm)
Thurs & Fri 8am-midnight, breakfast 8-11am lunch & dinner 11am- midnight (late night menu in effect after 9:30pm Thursday, after 10:30 pm Friday)
Saturday breakfast 8am-noon, lunch & dinner noon- 10:30pm, late night menu til closing at midnight
Sunday breakfast 8am-noon, lunch & dinner noon-9:30pm, late night menu til closing at 11pm
Weekly Specials
Be sure to make it in for Margarita Monday, Sushi Wednesday and Thursday for Karaoke! Happy Hour Mon-Fri 3-6pm
Check out our facebook, "Train Wreck Bar & Grill", for updates on weekly food and drink specials!!
We are fun, casual and inviting, and can satisfy your appetites.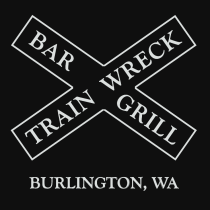 We serve the Skagit Valley with select locally-sourced products.
We are for those 21 and better with a full bar and beers on tap.